SMi Trial — Protocol Education to Optimize Clinical Trials
IMPROVE trial quality & data REDUCE downstream risk & re-monitoring SHORTEN study delivery
It's no secret that clinical trials are becoming more complex, and as the complexity of trials increases, so does the number of trials. However, with all of the effort focused on improving the efficiency and efficacy of clinical trials, training is an area that has reared its antiquated head, resulting in costly protocol deviations that ultimately impact overall study quality, efficiency, and delivery.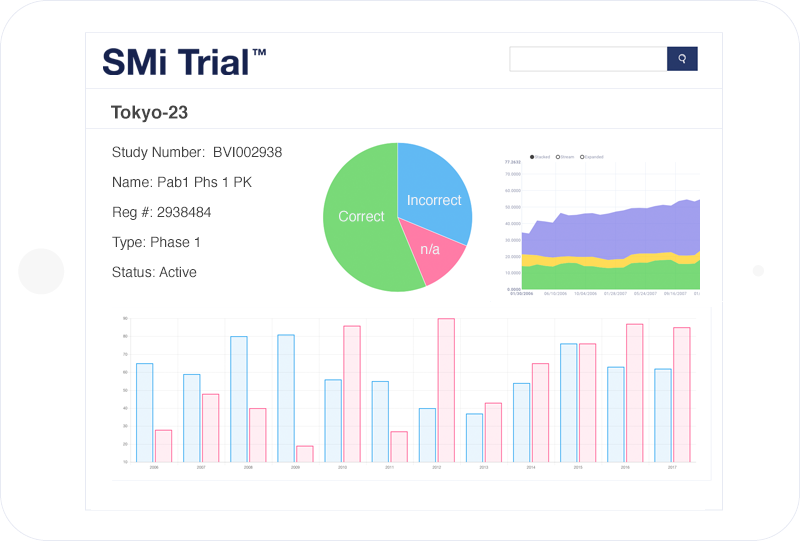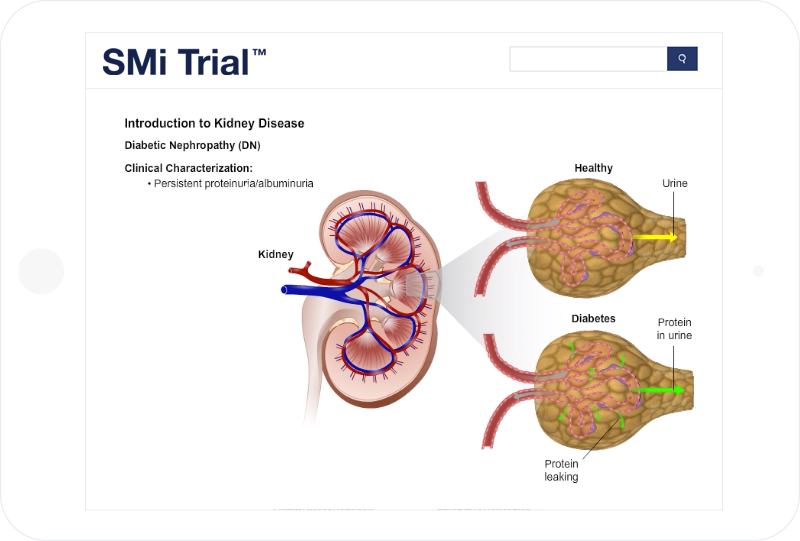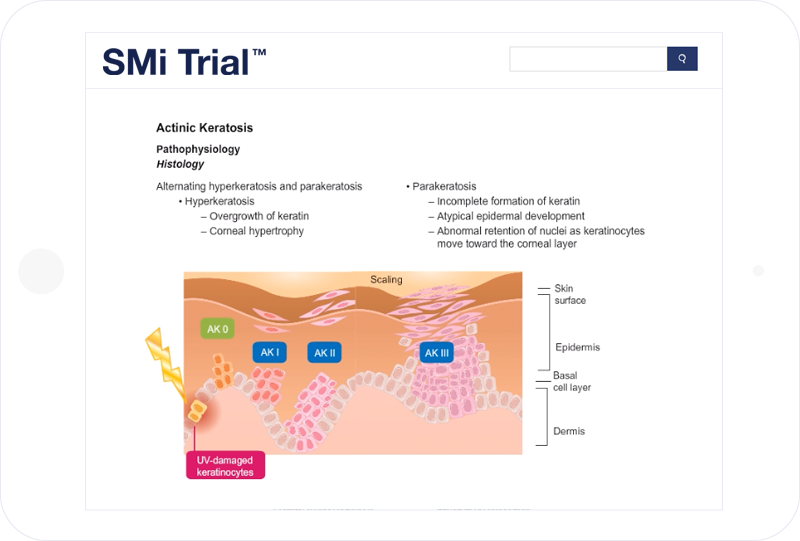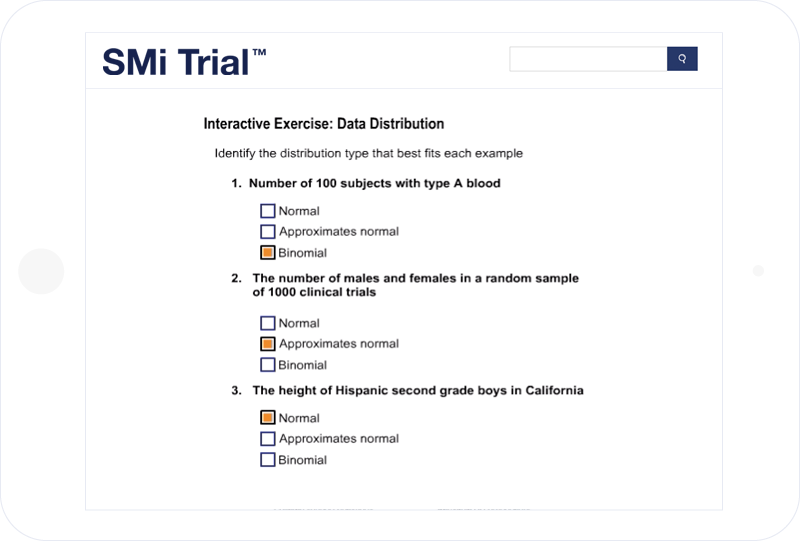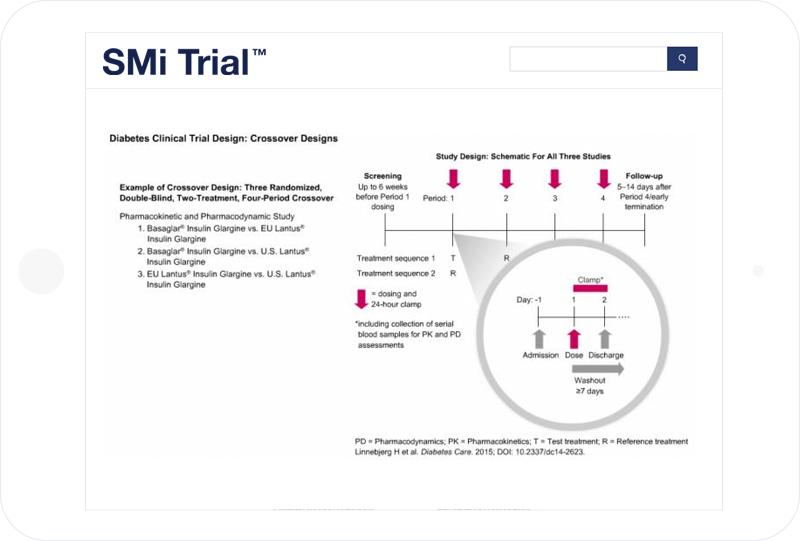 Take a Video Tour
Yes, engaging videos are always a welcome way to introduce new concepts. Here's a 3-minute video overview of SMi Trial, its implementation in a clinical trial, and sample study results.
Note: all information contained within is sample information only and does not identify a customer's proprietary and confidential study details.
Reduce Risk. Avoid Deviations. Optimize Studies.
The problematic training practice seen in most studies:
A 100-page protocol results in a duplicative 100-slide PPT deck
No special emphasis on highest risks for protocol deviations
Some material is redundant to prior studies
Training after the Investigator Meeting is passed down, diminishing training consistency
New hire training requires a site visit, so onboarding personnel slows the trial
PPT presentations from the Investigator Meeting prove to be only marginally effective
Quick access to the relevant, refresher training material at later stages in the trial is difficult
Add the newly introduced ICH GCP E6 (R2) regulations in addition to CTTI guidance around risk identification and mitigation, and you have an increased demand on trial conduct, recording, and reporting including:
Emphasized training focused on the highest risks for protocol deviation
Measuring and recording the site personnel's understanding of the protocol
Training should be:

Targeted to trial, role, and experience
Self-directed, just-in-time, practical, and relevant
Placed in a platform to record completion and understanding
SMi Trial — Eliminate Protocol Deviations from Your Clinical Trials
The opportunity to avoid protocol deviations in clinical trials is something of a Holy Grail in clinical development, but for companies who understand the criticality of protocol-specific training, the quest may be less frustrating and futile.
SMi Trial is a revolutionary, results-backed solution used to significantly strengthen the successful operation of clinical studies by assessing training comprehension, identifying and training to vital knowledge gaps, and providing training completion documentation.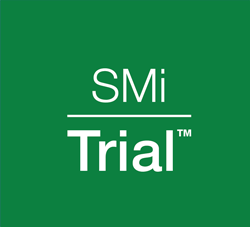 SMi Trial has been used in dozens of global Phase II and Phase III clinical trials across various therapeutic classes by world class biopharmaceutical and CRO organizations alike. SMi Trial:
Focuses on the high-risk areas of a protocol
Proactively detects and avoids protocol deviations by identifying and addressing knowledge gaps early
Improves knowledge comprehension and retention through education
Eliminates variances of traditional training through interactive, instructionally-sound multimedia material that keeps the learner engaged
Is available on-demand on any device, thus facilitating targeted training and onboarding
Provides inspection-ready documentation
Take Their Word for It, Not Ours
Here's what Biopharmas and CROs have had to say about their experience with SMi Trial:
"With the complexity of current trials, it is more important than ever before to ensure research sites and project teams are well trained and truly comprehend the indications and protocols. We're leveraging SMi Trial to reduce the risk of errors by mandating compelling training focused on the highest risks within a trial to raise the clinical competency of sites throughout the duration of the trial."
"As an SIV surrogate, this approach is phenomenal. I was pleasantly surprised by the neatness of the presentation. This is great for SIV supplement."
"The format is a refreshing solution that allows training to be developed that provides interest and education, allowing the key elements of the study to be emphasized and most importantly, easily facilitates tailored education based on role and level of experience."
"The multimedia format was by far the best approach as it enabled us to convey & reinforce specific objectives for our complex program. The training modules provided our team foundational knowledge and details about study endpoints and objectives which could not be easily drawn from the protocol, IB, or other core documents."
"SMi Trial leverages industry leading approaches to improve retention & comprehension and will improve trial compliance & performance."
"The assessments for site staff enabled CRAs to focus on those elements of the study that needed additional attention during the SIV."
Get in touch with us
Complete the form below and click on the button 'Request Demo'.